Dean, Virginia, Bill, Beth, Doug
Bill Oliver – Smokey Bear meets Chuck Berry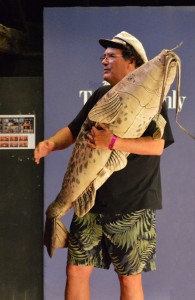 I was born July 12, 1948, in St. Louis, Missouri, "imprinting" on the Mississippi River. After St. Louis and Little Rock, Arkansas, we moved to Houston, Texas, where I began playing guitar in third grade. My favorite place was the neighborhood ditch, where I took my guitar and Mark Twain books, and imagined the ditch was the Mississippi River. In Junior and Senior High school I played in "garage bands," church camps, learning a mix of rock'n'roll and folk songs. I also liked Scouting, camping and hiking in East Texas forests and the Texas Hill Country. I wanted to be a Forest Ranger and play music: Smokey Bear and Chuck Berry! We moved to Western Pennsylvania in my last year of High School, where I drove my parents nuts with an electric guitar in the basement. A high point was opening for the Beatles, (well, actually a Beatles' movie).
Huckleberry Finn goes to Texas
In 1966-68 I "attended" the University of Texas at Arlington, worked at a TV station in Dallas, joined a band, and hitch-hiked a lot. "Folk-Rock" was the music, and I started writing songs in earnest, mostly on acoustic guitar. With band-mate A. Glenn Myers, I rafted the Mississippi River in the summer of '68, a major " watershed event." The adventure had an immediate effect: I was soon called for two years in the US Army, serving in Seattle and Vietnam, where I traveled as a "Singing Food Inspector!"
Environmental Troubadours
I wound up in Austin, Texas by the mid-70s, with adventures in Arizona, Maryland, and Ohio. By the early 80s, I had many Community College hours, inspired by the biology deptartment and local enthusiasts to write "Habitat" and other songs for the growing environmental movement. The multi-talented Glen Waldeck and I teamed up and began performing for events, schools, honky tonks and festivals. We played together for years as the "Environmental Troubadours," dubbed by TIME Magazine, November, 1989. Between us we produced seven albums, several videos, and countless campfires. Our music took us around the US and beyond, with highlights in Alaska, Hawaii, & Japan.
Welcome to Otter Space
For the last ten years I've been busy with solo shows and the all star Otter Space Band. Our album "Friend of the River," relates to my love of the Texas River School in Austin, and river events elsewhere. I'm still a "travelin' troubadour," but sticking closer to home. I'm honored to be listed in the Texas Commission on the Arts "Touring Roster." In Austin I produce two festivals for youngsters and families: "Mother Earth Day at the Springs" a concert and eco-fair in May at Barton Springs, and "Lady Bird Lake Fest," both sponsored by the City of Austin and others. Future Otter Space projects include river trips, recordings, and fun-filled musical adventures. Stay tuned!
Career Highlights
• Mother Earth Day at the Springs, Austin Texas, 2002-2018
• Kerrville Folk Festivals, 1972-2018
• Thousands of schools, songs, and celebrations
• National Audubon and Sierra Club Conferences
• Time Magazine Article
• Texas Parks & Wildlife Magazine Article
• Gulf of Mexico Musical Science Tour
• "Best Singer for the Cause" Austin, Chronicle
• Austin Science Fun Days
• Keep Alaska Wild! Tours
• Smithsonian Institute, Ocean Ecology Program
• "Good Morning America"
• International Schools in Taiwan and Japan
• National Parks: Grand Canyon, Lassen Volcanic, Muir Woods, Zion, Guadalupe Mountains
The Otter Space Band
Doug Powell  |  mandolin, guitar, vocals
"The first Otter." One day in the mid-'80′s Doug approached me at an Austin gig, and suggested he join. He was right! A self-employed lighting engineer by day, he's had thirty years of music with Austin groups CPR, and Ain't Misbehavin'. The "go-to" guy in many respects, his electric mandolin style makes our sound unique. He has a talented family, with Nathan and Sophie growing up as "support" Otters!
Beth Galiger  |  flute, saxophone, fiddle, vocals, kayaks
She is "classically trained" and plays it, but also in the classical genres of Austin folk circles: plays rock-a-billy with Jon Emery's big bands, jazz with Slim Richie's Jazz Pharaohs, and folk with everyone! Also a great session player, road musician, and river rat!
Dean Stinsmuehlen | Bass, Vocals
Original bass player for Balcones Fault, 1970's Armadillo Show Band! Now an Otter!
Oliver Steck | Secret Weapon: Trumpet, Accordion, Vocals, Wetsuit, Clown school
Acrobatics
Virginia Palmer | Percussion, Vocals, Energy!
Occasional Otters
John Inmon | Electric Guitar, Vocals
Bobby Kallus | Drums
Alumnus
Bob Livingston  |  bass & acoustic guitar, vocals, character
"Cowboy Bob," the original "Lost Gonzo" of the early cosmic cowboy era! Side-kick to this day for Jerry Jeff Walker, he's come out on his own with his fabulous "Cowboys and Indians" album and project: applying thirty years of experience in India and the American West thru musical ambassadorship. We're lucky to get him when we can.
Paul Pearcy  |  percussion, drums, vocals
"Pablo" is one of the most sought after percussionists in Austin, for sessions and gigs. Honored several times as "Best Drummer" in Austin Chronicle Music Polls, he's also a top notch studio producer. I know him as a boating dude, as well, former board member for the Texas River School, and good friend.