Bill Oliver & The Otter Space Band
It's Obama's Fault
Bill Oliver & The Otter Space Band
Mitt Romney: The Candidate Nobody Wanted (Woof, Woof!) – (Studio Cut)
Bill Oliver & the Mooseburgers, parody
Sarah Palin Bridge to "nowhere ma'am"
Bill Oliver & The Otter Space Band
Linda Overton | cheerleader
Paul Pearcy | drums, percussion
Beth Galiger | saxophone, vocals
Lisa Rogers | vocals, cheerleader
Richard Bowden | the amazing fiddle
Bill Oliver | lead vocals, acoustic guitar
Samantha Vanderslice | vocals, cheerleader
Bob Livingston | Gonzo vision, bass guitar, vocals
The East Side Flash | piano, baritone electric guitar
Oliver Steck | trumpet, euphonium, accordion, vocals
Ben Livingston | vocals, cheerleader, slide whistle, kazoo
Songs Written by Bill Oliver © 2012 | Texas Deck Music, BMI
Recorded at Flashpoint Recording | Downtown Austin, Texas
Chuck Miller | CD design, video and editing, YouTuber, FB'r
Sam Hurt | The Otter Space Band Ship Artist
The East Side Flash | Recording & Mixing
William Oliver | video
Sonora Lee | Cover photo
All of the above | producer
BillOliverMusic.com
FB & YouTube: BillOliverMusic
Special thanks to Seamus (the dog) and the Cranbrook School Cheerleaders.
NO DEMOCRATS WERE HARMED IN THE MAKING OF THIS RECORDING
SPECIAL THANKS to Bruce Kluger, David Slavin, and Colleen Clapp, authors of Dog on the Roof! We love your book and appreciate your kindness. Thanks to the fine folks at Touchstone/Simon & Schuster for seeing through the legalities, and giving us enthusiastic permission! We thank you all!- Chuck Miller, Producer/Editor (Plug: Go buy the book!)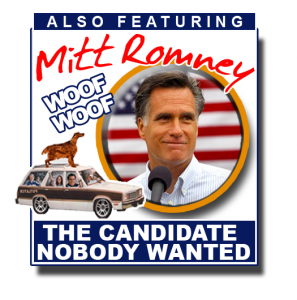 Dog on the Roof!
On the Road with Mitt and the Mutt
Bruce Kluger | Author
David Slavin | Author
Colleen Clapp | Illustrator
Publisher | Touchstone/Simon & Schuster © 2012
Available at Amazon.com and other fine retailers.
About the Book:
Dog on the Roof! On the Road with Mitt and the Mutt
They were the typical American family on a typical American road trip—Dad behind the wheel, Mom in the passenger seat, their five adorable kids piled in the back. And, of course, their beloved dog strapped to the roof.
Wait . . . what?
Now for the first time, here is the completely true—and only mildly embellished— shaggy-dog story of Seamus Romney, the famously fetching Irish setter whose master, future presidential candidate Mitt Romney, plopped him atop the family station wagon for that infamous 1983 car trip. From the majesty of Mount Rushmore to the fabulousness of San Francisco, from the sacred temple of Salt Lake City to the hallowed halls of Washington, D.C., here at last is Seamus's rooftop account of that headline-grabbing journey . . . unleashed.
Doggedly chronicled by satirists Bruce Kluger and David Slavin (NPR's All Things Considered), and cleverly illustrated by Colleen Clapp (The Chris Matthews Show, NBC News), this American tale is more than just the story of a dog on a hot tin roof. It is the inside (well . . . overhead) look at the Man Who Would Be President and the wild ride that's sweeping—and bewildering—the nation.
"GO BUY THIS BOOK!" – Chuck Miller, Editor: Mitt Romney: The Candidate Nobody Wanted (Woof, Woof!) – (Studio Cut), Bill Oliver – It's Obama's Fault (Studio Cut)
Bill Oliver – It's Obama's Fault (Studio Cut) &
Mitt Romney: The Candidate Nobody Wanted (Woof, Woof!) are
A SHORT SHELF LIFE | BILGEWATER PRODUCTIONS ©2012